Thank you for visiting our booth at JISSO PROTEC 2019
Venue: West Hall 1-4 + Conference Center, Tokyo Big Sight, Tokyo Japan
Exhibition Period: Wednesday – Friday, June 5 – 7, 2019. 10:00 a.m. to 5:00 p.m.
New Products/Solution showcased at our booth
New Compact Vacuum Pressure Reflow Oven for void-less and flux-free soldering
Table-top single solder ball mounter for reballing, repair and prototyping of BGA package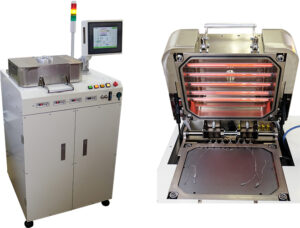 Thank you for visiting at PURBEST TECHNOLOGY booth
Table-top solder ball mounter STM will be displayed at PURBEST TECHNOLOGY booth E2.2860 in Productronica China 2019
March 20 – 22, 2019 at The Shanghai New International Expo Centre
Link to the exhibitor information
■
Table-top Single Solder Ball Placement System STM
for prototyping, R&D, and repair(re-balling) of BGA type IC packages and substrates.
The unique single solder ball separation unit enable to place solder ball on a BGA whatever the placement pattern will be.

Thank you for visiting our booth in 11th AUTOMOTIVE WORLD 2019
[Dates] January 16[Wed]-18[Fri],2019 10:00-18:00 (last day until 17:00)
[Venue] Tokyo Big Sight Japan

New Products/Solution showcased at our booth

■

Ultrasonic Servo Metal Welder
SDB servo-metal welder displays remarkable performance for the welding of especially aluminum and copper materials.
■

Vacuum & Pressure Reflow Oven VPF
Unique heating and cooling system provides versatile and efficient process.
Please see
Link to the products detail at out booth
for more detail.