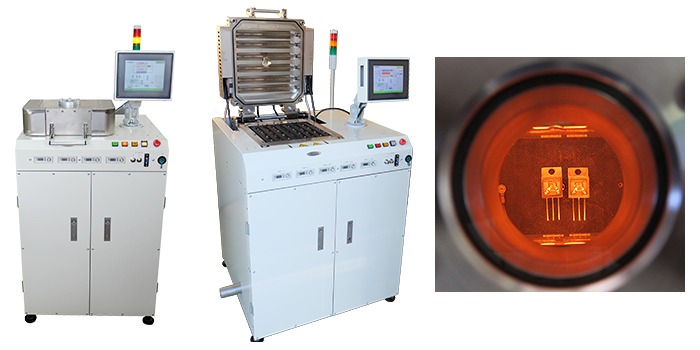 VPF vacuum and pressure reflow oven has a practicable wide heating area together with unique rapid cooling function that expedite the cooling process, enhance your productivity even with the single process chamber.
VPF is capable of not only conventional vacuum process but also pressurized process up to 0.4 Mpa, allow you to vary the pressure inside the chamber in wide range, the voids in the solder joint can be minimized, resulting nearly void-free soldering is achieved.
VPF is also capable of flux-less soldering by reduction of oxide film with formic acid vapor. The system can be equipped with formic acid babbler with liquid temperature control which can supply Nitrogen gas mixed with formic acid at constant concentration into the process chamber. Forming gas is also available for the same purpose.
With those outstanding functions on VPF, you can build a flexible process for fluxless soldering and void-free soldering on your various applications.